The world's largest Victorian glasshouse, the Temperate House, at the Royal Botanic Gardens at Kew opened its doors following a 5-year restoration project costing £41 million. First opened in 1863, the reopening of the Temperate House marks the 155th anniversary of this iconic structure.
After reopening, the glasshouse contains over 10,000 plants from 1,500 species, including some of the rarest and most threatened plants on Earth.
In 2011, a government report said that a renovation was required within three years if the structures were to survive. 155 years is a long time and the structure started showing major signs of ageing. So a grand restoration project started in 2013 and the greenhouse was covered in a large tent.
The renewed Temperate House is opened with about 69,000 elements removed, cleaned, and restored/replaced, and 15,000 new panes of glass installed.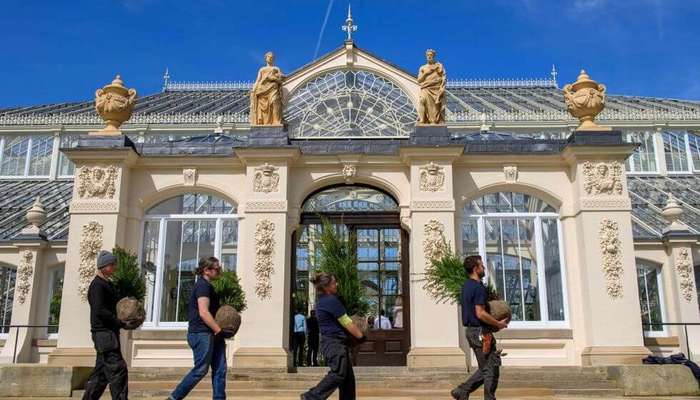 A photo by Chris J Ratcliffe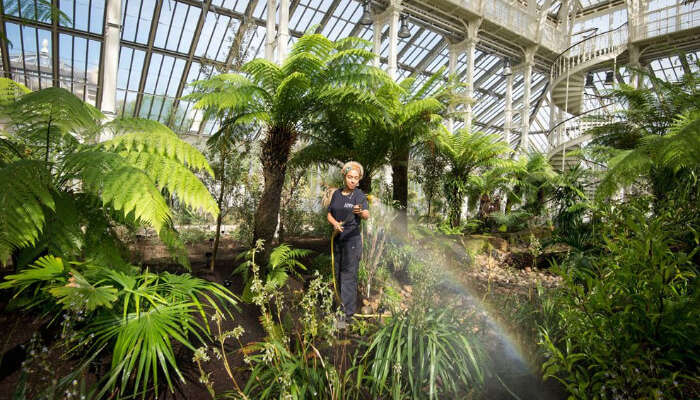 A photo by Jeff Eden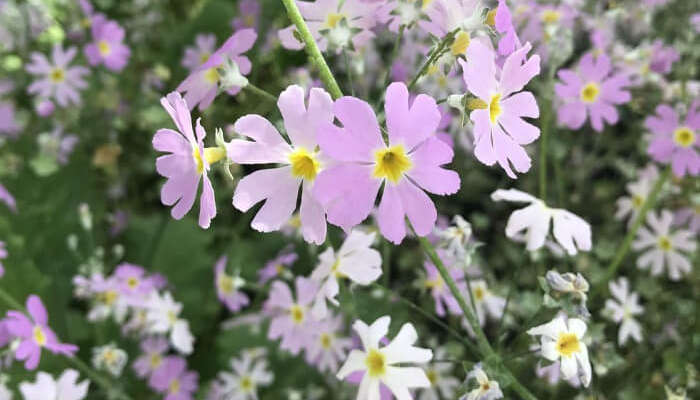 A photo by Olivia Heath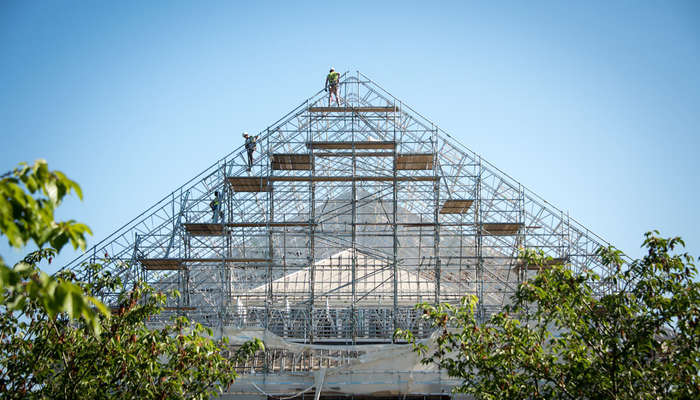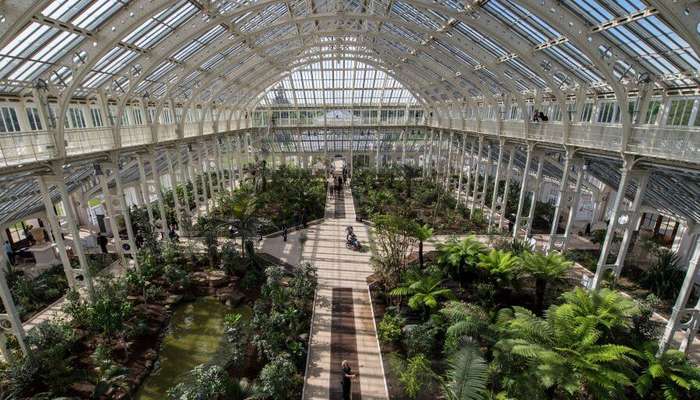 Richard Barley, the director of horticulture at Kew, said in a statement released by The Guardian: "It's been amazing watching this project unfold, the building emerges gloriously and some of the world's rarest plants safely reach their home."

The project's lead architect, Aimée Felton said: "The restoration of the Temperate House has been a complex and immensely rewarding project, recalibrating contemporary understanding of Victorian architecture and the development of past innovations,."
Although it may take decades for the plants to grow fully, it'll be a great opportunity for those who have been waiting for the renovation to end. It'll also be a good chance to see the plants in a new light for tourists as well as the local community.
The Home Ministry has decided to relax the 6-decade-old PAP or Protected Area Permit regime from Nagaland, Mizoram & Manipur for 5 years, which is undoubtedly a great news for foreigners planning to visit these 3 states in the near future.
However, it does not apply to the foreign tourists travelling to India from Pakistan, China, and Afganistan. Under
Foreigners (Protected Areas) Order, 1958, all the areas that fall between the Inner Line and the International Border of some states were declared as protected areas.
Those protected areas include the entire Arunachal Pradesh, Mizoram, Nagaland, Manipur, Sikkim, some parts of Himachal Pradesh, Uttarakhand, Rajasthan, and J&K.
In Sikkim, there are some parts that fall under protected area regime or are restricted. In order to promote tourism in these 3 states, the government keeps exempting such restrictions time to time.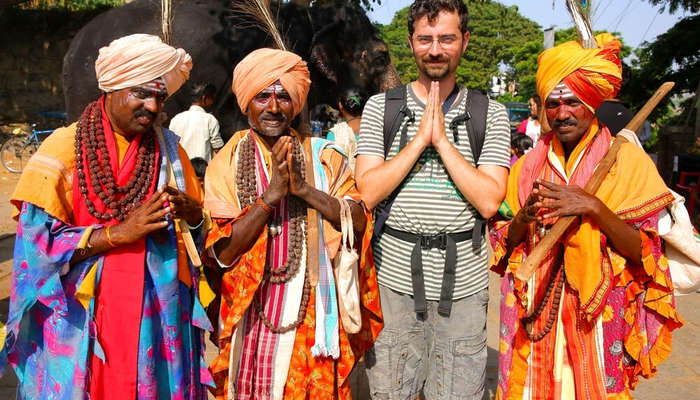 One of the officials said, "A review is underway to lift the PAP from other areas too." As per the guidelines, a foreign national is not normally allowed to visit a protected or restricted area unless the government is satisfied that there are extraordinary reasons to justify his or her visit.
In normal cases, foreigners (except the citizens of Bhutan), who wish to enter the protected areas are required to obtain a special permit from a competent authority having the power to issue such permits.
Necessary powers have been given to various authorities to issue such permits without the prior approval of The Ministry of Home Affairs to facilitate foreign tourists subject to the certain exceptions.
The Ministry of Road Transport and Highways plans to construct a Delhi-Mumbai Super Expressway that will sort all your weekend plans soon. And once this Super Expressway is completed, it will enable the commuters to travel between the cities in a matter of just 12 hours. You read that right!
Considered to be a part of the Bharatmala Pariyojana programme that focuses on constructing a total of 34,800 kilometers across India, you will soon be able to zip zap zoom via the Delhi-Mumbai Super Expressway and cover a distance of 1,400 odd kilometers at a speed of 120km/h in 12 hours approx.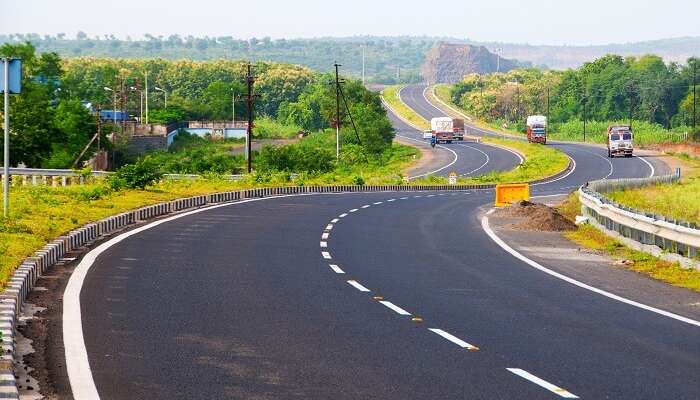 The best part is, the work has already begun. The route at present takes about 25 hours to travel from Delhi NCR to Mumbai. And to have cut this time by half, is indeed an achievement in its own.
Gurugram —> Jaipur —> Kota —> Vadodara —> Mumbai
At present, the traveling time of Rajdhani Express from Delhi to Mumbai stands at a total of 16 long hours. Sounds tiring right? Well in future you don't have to go through all such hassles and thanks (in advance) to the Delhi-Mumbai Super Expressway.
This not only means that finally a long weekend in Mumbai and Delhi would soon be possible for the locals of both the cities in near future but this Delhi-Mumbai Super Expressway will also beat the travel time of the super fast Rajdhani Express by 4 hours.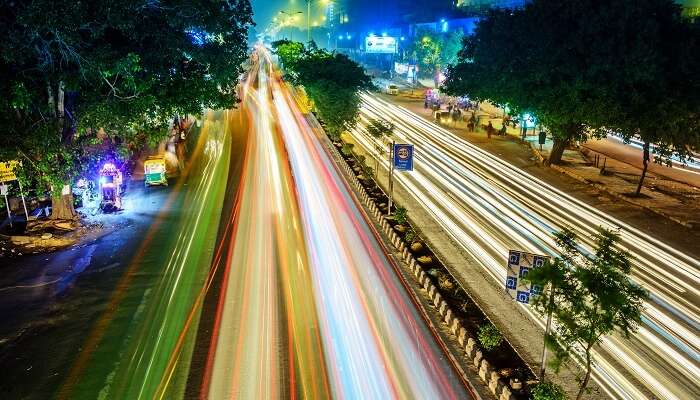 Apart from all that, launch of this Delhi-Mumbai Super Expressway will not only cut down on your extra expends on booking last-minute flights but will also save all your time and effort that went into standing in those never-ending queues for booking railway tickets.
While the project of this Super Expressway is expected to be concluded in a period of about 15 months, do let us know what you feel about this great initiative in the comments below.
Choosing the best ski resort in France can be tricky. There are too many of them, with similar facilities and offerings, nestled in the beautiful landscapes of the country. In an attempt to prepare you for an amazing skiing holiday, we try and simplify what skiing resorts mean, what do they comprise, what are the charges and so on.
To start with, ski resorts in France are primarily villages or towns in a mountainous area, developed for skiing, snowboarding, and other winter sports. They are an experience in themselves and offers a multitude of entertaining activities for their guests.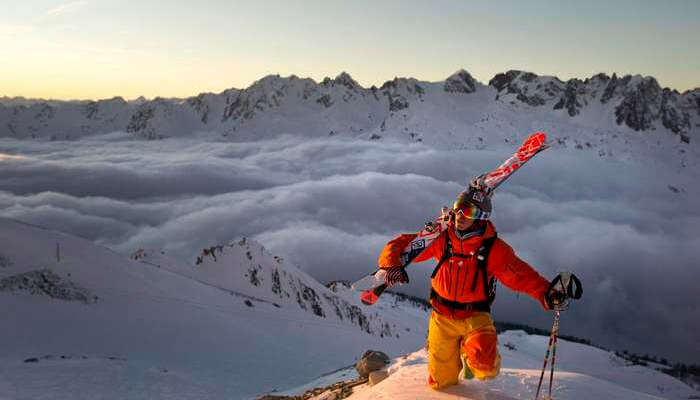 Before you look for the best ski resorts, there are certain things that should be crystal clear to you. Most important ones of these are the usual temperature at French ski resorts and what is cost range.
Skiing costs will vary slightly for different resorts, but the range restricts from €20 to €30 in most cases. You can either choose a single day skiing option or take a 6-day ski pass, which ultimately costs lesser than per day charges. What option you take may depend on the group size, duration of travel, and overall budget of the trip. See here for cost estimates.
1. Avoriaz, Portes du Soleil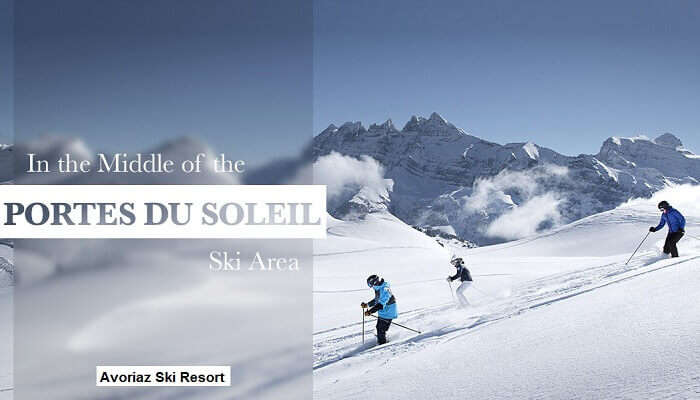 Avoriaz is one of the best ski resorts in France and among the largest in the world. It is located in the hilly areas of Portes du Soleil, a pass between France and Switzerland. Skiing here takes place in the Format area with huge boulders and fissures. And as you ski through the gorgeous countryside, stunning views of Dents du Midi and Dents Blanches are sure to distract you.
Cost: Skiing at Avoriaz starts at €33 – the price for 5 hours of skiing for kids. For further cost details, see here.
Skiing Options: You can either join the Snow School for full-fledged lessons in skiing or go for independent instructors. Equipment renting option is also available.
Best places to stay: Avoriaz ski resort offers multiple stay options for different budgets. Friends and singles looking for cheaper options should explore self-catering apartments and private lets. If you can raise the budget, go for chalets, apartments or hotels. Best stays at Avoriaz, however, are Hotel Des Dromonts, Club Med, and Pierre and Vacances Residence and Spa.
Attractions besides skiing: At Avoriaz ski resort you can also go for snowboarding and golfing. If you are with kids, fun is guaranteed at the Aquariaz – the highest water park in Europe. Click here to choose from a plethora of snow activities, family activities, and adventure sports. These numerous attractions make Avoriaz one of the best family ski resorts in France.
Website | Reviews
Europe Holiday Packages On TravelTriangle
Explore the most beautiful places to visit in Europe, from Paris to the Venice canals and from the Greek islands to the Swiss alps. Book customized packages by expert agents on TravelTriangle. Inclusive of airport transfers, cab, resort, sightseeing and meals. Best holiday experience Guaranteed. Book Now
2. Chamonix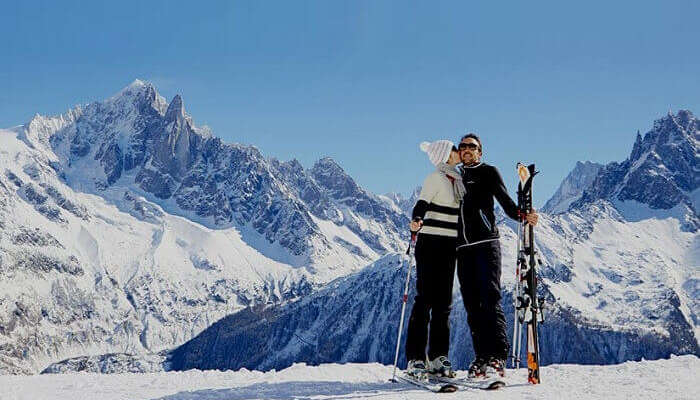 Located at the convergence of France, Italy, and Switzerland, Chamonix is among popular skiing resorts in France. This famous French ski resort is located at the base hill of Mt Blanc, the highest summit of Alps. It is one of the oldest ski resorts in France and is popularly known as the Gateway to European Cascades.
It is the best freeride resort in the world and houses 5 ski resorts – Grands Montets, Les Houches, Le Tour/Balme, La Flegere and Le Brevent.
Cost:  In Chamonix resort, 4 types of ski passes are available for tourists:
Mont-Blanc Unlimited (MBU) – Full Area Pass, including the neighboring resorts
Chamonix Le Pass – Local Area Pass, suited to learners and short breaks
Les Houches – Smaller Local Ski Resort, suited to families and small groups
Rapid Card – a prepaid, pay-as-you-go, non-consecutive multi-day loyalty pass
The most popular passes are for 6 days ski program and cost about € 293 for adults (16-64) years. For further details regarding cost and permissible age limit see here.
Skiing Options: You can achieve one of the premium skiing experience at Chamonix ski resorts while skiing with professional skiers along the slopes of Mont Blanc range. Skiing equipment for the novice as well as the experts are available on rent and ski guides are exceptionally competent and professional in nature. The wide variery makes Chamonix one of the good ski resorts in France for beginners and professionals alike.
Best places to stay: Chamonix ski resort offers a variety of stay options for different wallet sizes, ranging from service apartments, dormitories with bed and breakfast, campsites, holiday centers, chalets, and hotels. There are also options for mountains huts, hostels, and campervan hire. Best accommodation options are at Hotel Terra Nova, Chalet Hotel Les Rhododendrons and Araucaria.
Attractions besides skiing: Cable car rides to nearest peaks as here are one of the highest cable cars in the world, foot treks on the glacier, ice-skating on the ice rink, skiing, cross-country skiing, and tobogganing.
Website | Reviews
3. Tignes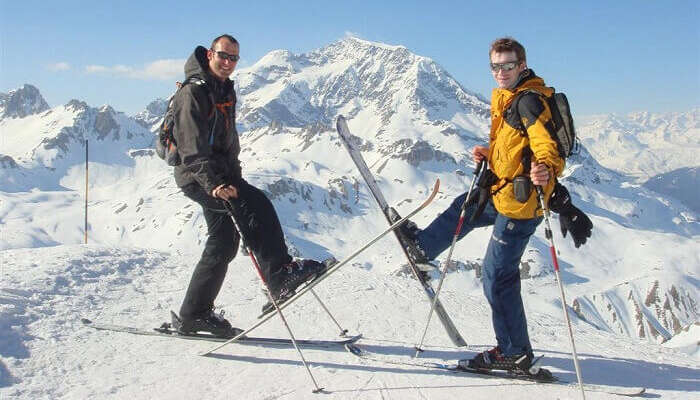 Tignes is among the best French ski resorts, situated in the Tarentaise Valley. It acted as a freestyle skiing venue for Winter Olympics and Winter Para Olympics of 1992. Together with nearby Val d'Isère, it forms the "Espace Killy" ski area.
Cost: The cost of skiing equipment hired at Tignes starts at £108.33 for adults. There are various categories of packages like Bronze, Silver and Gold. For further information, see here. However the equipment will be delivered to your accommodation and the technicians will help you to fit into it.
Skiing Options: Tignes has a 300 km extensive skiing terrain with one end meeting with Pissaillas glacier. You don't need to be a pro, but basic physical fitness is desired always to extract the maximum fun during this snow activity. However, there are Ski Schools for guidance and support.
Best places to stay: Tignes offers large accommodation options for tourists. The best one being Club Med Tignes Val Claret, Les Suites Du Neveda, and Hotel Diva. However you can easily find homestays with bed and breakfast options, studio apartments, and self-catering rented spaces.
Attractions besides skiing: At Tignes, you can enjoy snowboarding, snowshoeing, and snow biking at Tignes Bike Park. There is mountain biking school located at the foothill region. This downhill mountain biking school is based in Tignes where bikers have entree to the vast Espace Killy mountain biking area (Tignes & Val d'Isere). Moreover after an exhaustive day, one can also relax at spa or steam room located near the main lift station.
Website | Reviews
4. Les Karellis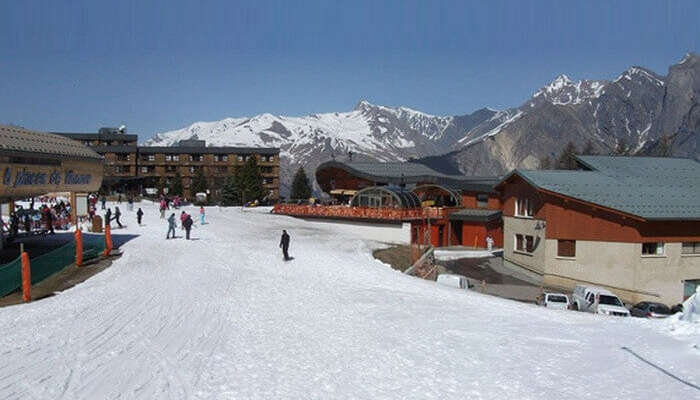 One of the best ski resorts in France, Les Karellis is a popular destination for winter sports. Located at the centre of Maurienne Valley, this mammoth ski area can be reached by taking a train till Saint Jean de Maurienne and availing regular shuttle thereafter.
Cost: Skiing costs are of two types here. One can get a day ski pass which ranges between € 26 for adults to € 18.20 for children between 6-11 years. One can also get weekly passes starting from € 52,10. For details, see here.
Skiing Options: Les Karellis offers the best ski facility for amateur skiers and vacationers. The vast ski area and the snow park is restricted by very limited stay options; hence, fewer people ski happily on vast tracts. No queue, no hurry, no rush!
Best places to stay: There are many apartments for rent, holiday clubs, and hotels available as stay options. Few premium hotel options are Arc-en-Ciel, Village Club Les Karellis, and Les Balcons de Maurienne.
Attractions besides skiing: One can enjoy snowboarding, biking, and skiing under proper training and guidance of Ski School located there. However, there are plenty of other activities too! Walking atop the mountain is one such fascinating option. Head to the summits and stop off at "La Vinouva" altitude restaurant, cross the forest, go around the lakes and discover typical mountain hamlets. One can also go for Heritage tours to Barrière de l'Esseillon, Aussois, Saint Jean de Maurienne and Montricher, and MONTRICHER the Eco Museum. Dog sledge option is also there. For further details, click here.
Website | Reviews
5. Serre Chevalier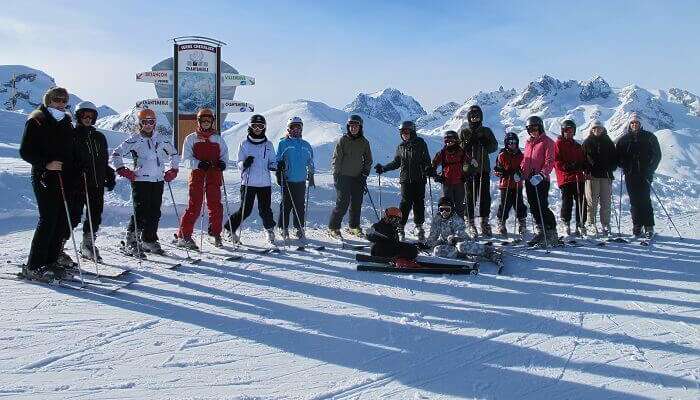 Serre Chevalier is among the largest skiing resorts in France, located at an altitude between 1,200 meters and 2,800 meters. Serre Chevalier is a south facing valley dotted with hamlets and small settlements offering best ski facilities.
Cost: In Serre Chevalier, from December onwards, season rate for skiing depend on the age group and days and hours of skiing. It starts at 10 € à 23 € for a day and goes to 45 € à 100 € for 6 days. For complete info, see here.
Skiing Options: One can go for 6 days skiing package or enjoy individual skiing along the slopes.
Best places to stay: Serre Chevalier offers a wide range of stay options like bed and breakfast, holiday villages, private apartments and hotels, depending on your budget. Few best hotel options are; Chalet hotel de Serre Ratier, Sari Pi Mai, and Hotel La Maison du Buz.
Attractions besides skiing: Along with snowboarding in Serre Chevalier vallee and rafting in Tutte le Salse one can also explore heritage trips in Art Sacre Museum, Atelier D Artiste, Galerie Alezareoline etc, indulge in spa and hammam or steam bath.
Website | Reviews
6. Valberg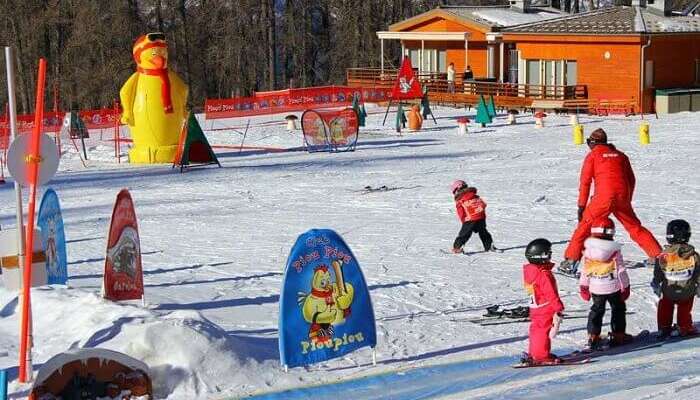 Amidst of French Alps, Valberg is a hilly village offering 90 km ski area with fun zones and snow park. Characterised by beautiful flora fauna and cool and comfortable weather, Valberg is definitely among the best ski resorts in France.
Cost: In Valberg skiing can be done for half a day, or by taking a 6 days package; charges vary accordingly. Skiing charges for an adult for half a day is €23.30 and for 6 days is €161.70. For more info click here.
Skiing Options: This skiing resort offers options of Alpine skiing, cross-country skiing, and mountaineering, among many others.
Best places to stay: Some of the best hotel options in the ski resort are Hotel Le Chalet Suisse, Hotel Le Chastellan, and Hotel Blanche Neige. However if your budget is low, there are self-catering apartments and dormitories available.
Attractions besides skiing: Nordic skiing trails for snowshoeing, skating and snowmobile rides, and the relaxing spa and swimming pool.
Website | Reviews
7. Morzine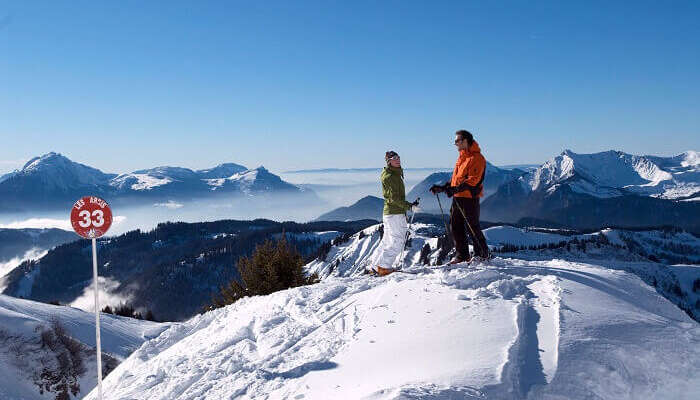 Morzine is a panoramic ski resort with a mesmerizing backdrop, classy ski facilities, and hotels and restaurants in the Rhône-Alpes region of eastern France. Morzine is a market town and is bordered by a river valley and thickly vegetated slopes. Among the best ski resorts in France, Morzine never fails to enthrall the skiers with a mesmerizing panoramic view and the amazing ski facilities.
Cost: For 6 days, charges for an adult are € 247.50 and for children the amount is € 186.00. For details regarding ski passes, see here.
Skiing Options: Skiing is extensive in Morzine. Novice as well as experts can ski and even rent skiing equipment.
Best places to stay: Basic options to choose from are apartments, hotels, luxury hotels and chalets. Best resorts, however, are Hotel L'Aubergade, Hotel Le Dahu, and Hotel Le Chaumeiere.
Attractions besides skiing: One can indulge in Mountain biking, valet football, skiing, and snowboarding. However shopping, visiting nearby villages and heritage sights can also be included in tour schedules. For party people, there are some awesome nightclubs too.
Website | Reviews
8. Megeve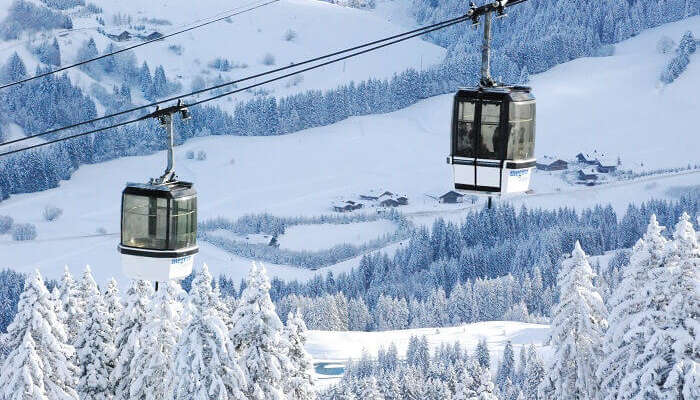 Megeve, a popular among the skiing resorts in France, is a picturesque and almost virgin town amidst the French Alps region. The quaint ski resort is one of the most happening and upmarket ski resorts in France.
Cost: An adult can ski for half a day at €41.00 and for 6 days €225.00. Get details here.
Skiing Options: Skiing in Megève is a luxury and exclusive experience that starts in the heart of our village to cap on the summits where the glaciers of the Mont-c enlighten the senses. Here there's a skiing kindergarten for kids and regular skiing schools for adults. Cross country skiing is also available, and so is the equipment on hire if you are a pro.
Best places to stay: Accommodation options available at Megeve include hotels like Mont Blanc Hotel, Hotel Le Fer a Cheval, and Hotel Chalet Saint Gorges, chalets, individual rentals, outdoor and collective accommodation and bed and breakfast.
Attractions besides skiing: Skiing in Mt D'Arbois area and La Jalliet ski area, chapels and churches at Le Chemin du Calvaire, outdoor activities like snowboarding, Aerocime, and snow skating, and the luxuriant wellness spa at Les Fermes de Marie.
Website | Reviews
9. La Plagne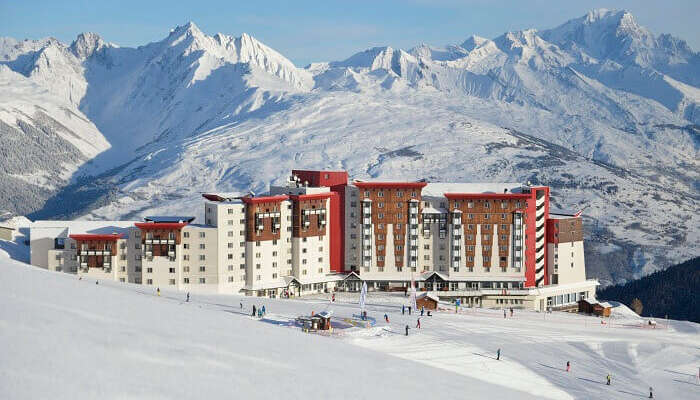 Located in the Alpine valley of France, La Plagne is a one of the vast ski resorts in France owned by Compagnie des Alpes. La Plagne is located at an elevation of 3250 meters and the ski space is spread over 100 sq km area. Its vast spans and the variety of skiing and stay options make it one of the best ski resorts in France.
Cost:  The cost of skiing varies with the number of days and hours of skiing as well as with age groups. For estimates, see here.
Skiing Options: One can enjoy Nordic skiing, Alpine skiing, and cross-country skiing at an individual level or under the guidance of Ski School.
Best places to stay: You can choose to stay in apartments and chalets, holiday villages, campsites, mobile homes or hotels. Best picks for hotels are Hotel Terra Nova, Chalet Hotel Les Rhododendrons, and Araucaria.
Attractions besides skiing: The enthralling skiing experience at Snake Gliss Station de Altitude, L'équipe d'AN Rafting service, bowling de La Plagne, the Mouth Bar, Paradifly, and the snow biking known as Snowpanthers
Website | Reviews
10. Isola 2000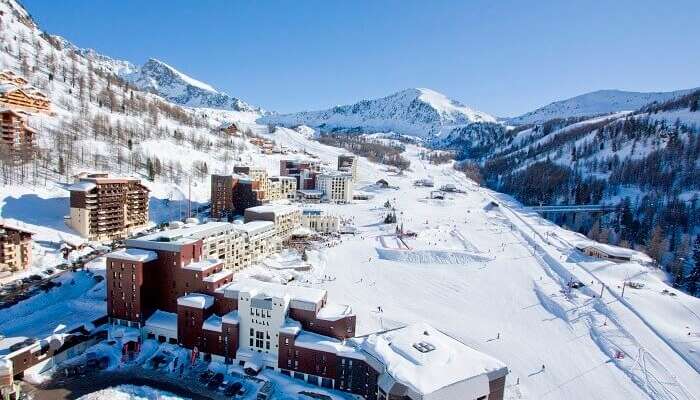 Isola is one of the summits of Southern Alps; a winter sport hotspot in France.  The place is located at an elevation of 2000 meters, along the border of Italy. Indeed one of the best ski resorts in France, Isola is a place to rejoice outdoor activities, food, and superb weather.
Cost: In Isola, season rate for ski pass is € 5. Find out more details here.
Skiing Options: You can either get enrolled the Snow School for guidance in skiing or go for independent instructors and rental.
Best places to stay: One can stay at hotels, campsites, vacation villages, and private lets. However,  the best hotels are Hotel Club du Soleil Le Pas du Loup, New Chastillon, and Hotel Druos.
Attractions besides skiing: Great skiing experience, trekking along the sunny slopes, dining at Isoliane, enjoying water slides in Aqavallee, and enjoying drinks at the Crocodile pub.
Website | Reviews
These best ski resorts in France will induce the traveller's instinct within you. Trust us, and your next holiday will be superbly fascinating and unbelievably adventurous.
Looking To Book An International Holiday?
Book memorable holidays on TravelTriangle with 650+ verified travel agents for 65+ domestic and international destinations.
In a world where everyone is now competing to set and break world records, this pop-up restaurant being set up at the Everest Base Camp seems to be stealing the spotlight. A group of chefs is planning to set a world record for establishing and running the highest ever pop-up restaurant where they'll serve dinner at the Everest Base Camp 11,600 feet above sea level. After ex-Noma chef James Sharman's failed attempt at organizing a pop-up dinner at Everest Base Camp back in 2016, this one better be more promising.
The plan is for four reputed chefs and ten diners to carry out an eight-day trek up Mount Everest for the project called "Triyagyoni". Starting in Lukla, Nepal, the trek will begin at the end of May 2018 and the group will forage for the ingredients on the way in order to make up their final seven-course meal, which may even include wine!
It won't be an easy feat to get to it! It's going to be a challenge for even the world's most audacious adventurers who'll need all their grit and power to show Earth who's boss and trek up this impossible mountain for a seven-course dinner!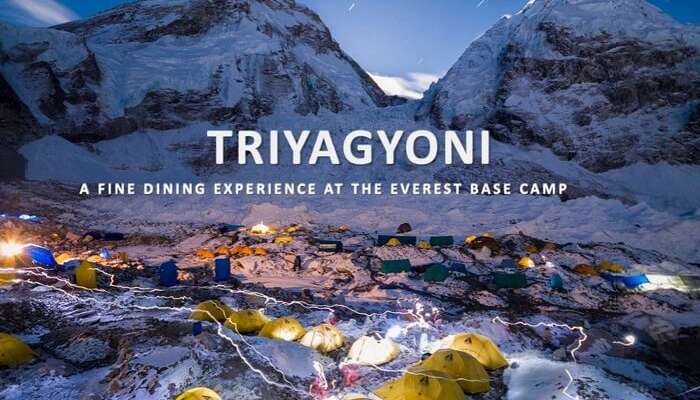 "The biggest challenge, of course, will be the altitude, which will affect everything," said Sanjay Thakur, an Indian chef among the four chefs behind the pop-up project. "Flavour will be decreased, so we will be designing a menu of extraordinary dishes accordingly, where spices will have the upper hand."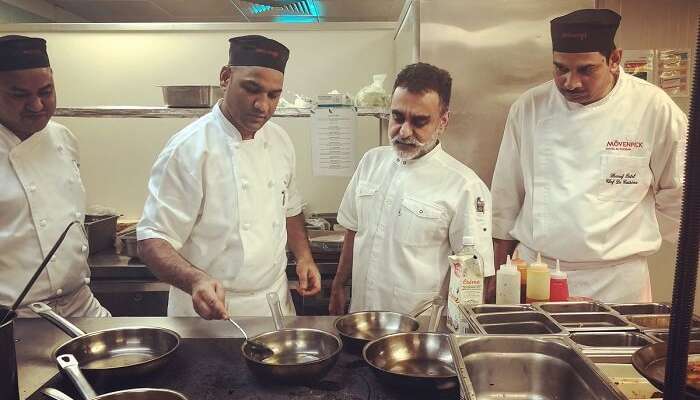 Adventure is only one of the things this pop-up restaurant will give hikers. Triyagyoni also aims to raise awareness of sustainability issues. "The meal, furniture included, is designed to leave nothing behind on the mountain. Additionally, all the money raised will go to local charities," said Thakur.
Interested to be part of the journey and go down in history? The tickets are currently priced at $5,600 including flights, accommodations, and meals and it's one hell of a deal for an adventure where you'll be hiking for about six hours each day. But hurry, before they are all sold out!
It may not be the top (the mountain rises till 29,030 feet into the air), but it will surely be an experience of a lifetime to eat cheese and Chianti up at 11,600 feet, one-third of the entire way towards the summit!
So, would you dare to embark on an endeavor such as this to taste the finest of cuisines there ever could be! Let us know in the comments below.
The days of traveling on long crowded train journey from South Mumbai to Navi Mumbai and Thane may soon be a thing of the past for an easier and more effective way of rapid water transport is soon on its way.
About Navi Mumbai To South Mumbai Ferry
The Navi Mumbai Municipal Corporation (NMMC) will soon launch two air conditioned boats that will ply from Vashi and CBD Belapur. This 10 crore master plan has been under development since the last two years and the NMMC has even received a no-objection certificate from Mumbai Maritime Board (MMB). It is set to launch very soon, much to the relief of the residents here who have been looking for an alternative to the local train travel for a long time.
About Thane To Gateway of India Ferry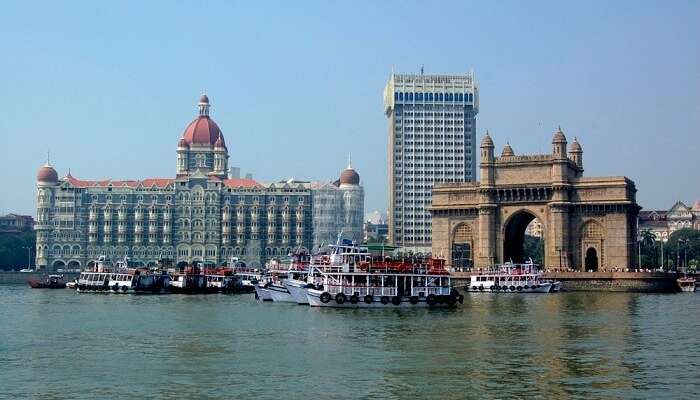 The (Thane – Mumbai ferry) is part of the second phase of the state water transport project and was recently given a go ahead for a Detailed Project Report after a feasibility study was provided regarding the same. The ferry service from Mumbai is not only expected to cut vehicle traffic by 20% but also lead to a 42% reduction in pollution levels in comparison to road travel on the same stretch.
Looking at all the development regarding cheaper, faster, and more efficient water travel in Mumbai, the city is surely taking a step in the right direction. Apart from helping in bringing down the pollution levels, the Navi Mumbai and Thane ferry service would offer a big relief to the common man stuck in a local train for long hours
Call it an epitome of fine design, bewitching beauty or an artwork illustration from a storybook, Germany's Neuschwanstein Castle is among the few remarkable man-made creations ever. Just a sight of this legendary castle in the Bavarian Alps would hold you transfixed! Such is the castle's charisma that even Walt Disney was left awe-struck at its first glance! Now we know what led to the outline of fairy castles in his stories! 😉 The outstanding retreat of King Ludwig II of Bavaria stands tall amidst the mountains and lush meadows that change colors every season.
Commissioning the dream-like castle was Ludwig's way of conferring regards to Richard Wagner – the legendary German music composer. Today, the Neuschwanstein Castle not just exhibits the tales of the king but also stands as the finest piece of attraction in Germany and entire Europe!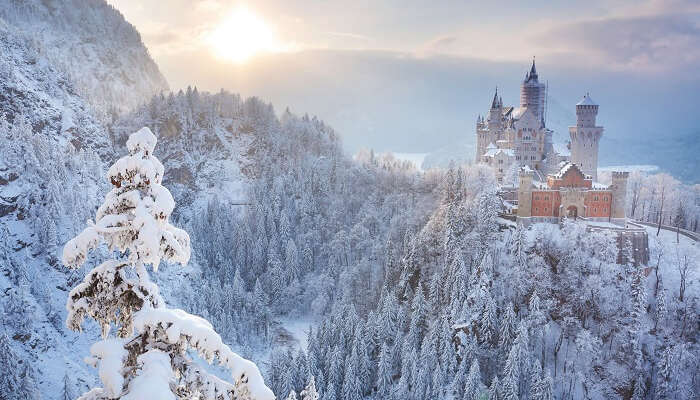 Neuschwanstein Castle translates to New Swan Stone Palace is located in one of the most scenic spots in the Bavarian Alps. Originally the castle was called as New Hohenschwangau Castle, which was a further creation of Hohenschwangau Castle where Ludwig spent his childhood. Designed by Christian Jank, the castle construction procedure started in the summer of 1868 but its cornerstone wasn't laid until 1869. The castle got commissioned by King Ludwig II two years after Austro-Prussian War.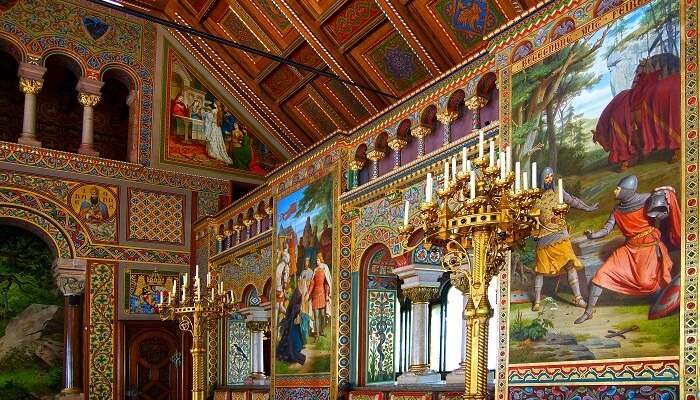 Let's start with the most prominent aspect of the castle, which is the highest tower of the castle – it stands at 213 feet. While the medieval castle looks grand and scenic from outside, it looks equally enchanting from inside. Neuschwanstein Castle interior is well equipped with state of the art facility and latest technology from the 19th century.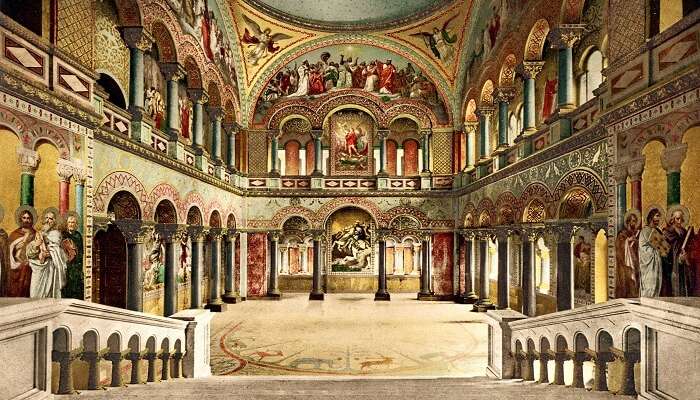 Talk about the advanced interiors of the castle and you have advanced air heating system and toilets on every floor with automatic flush. The water source of the castle is believed to be the spring located 200 meters above the castle in the mountains.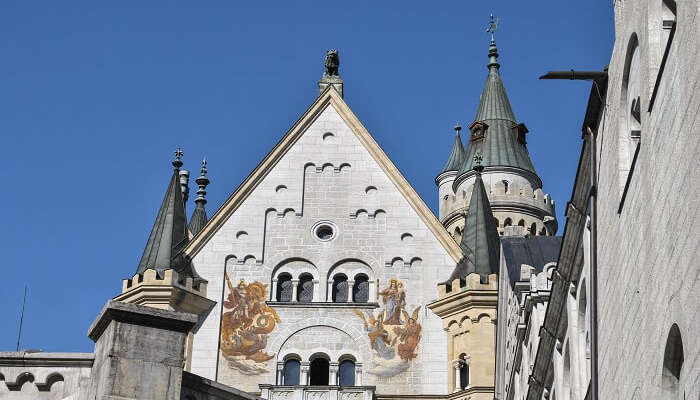 All the fascinating towers, turrets, frescoes, and throne hall, make Neuschwanstein a fascinating piece of beauty. The castle was completed until 1892 but Ludwig died mysteriously in 1886 and couldn't see the castle's final towers completed. Only after the death of the king, the castle was open to the public.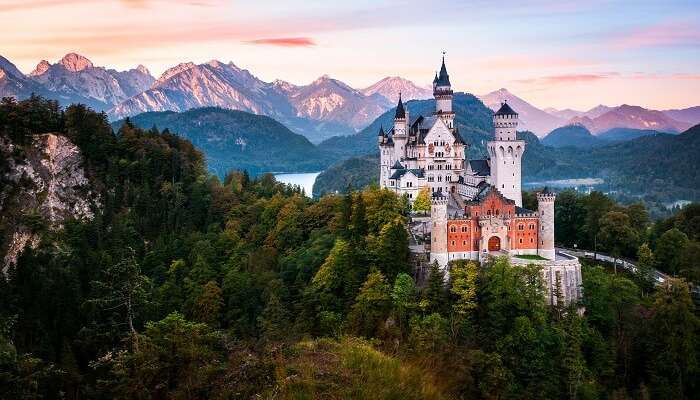 Neuschwanstein Castle can be visited during any season of the year. However, May, June, September, and October is considered to be the best time to visit the place. If you want to see Neuschwanstein all covered in snow, plan a trip there in winter.
Timings: 8 am – 5 pm
Ticket fare: 13 euros per castle plus 1.8 euros for advanced reservation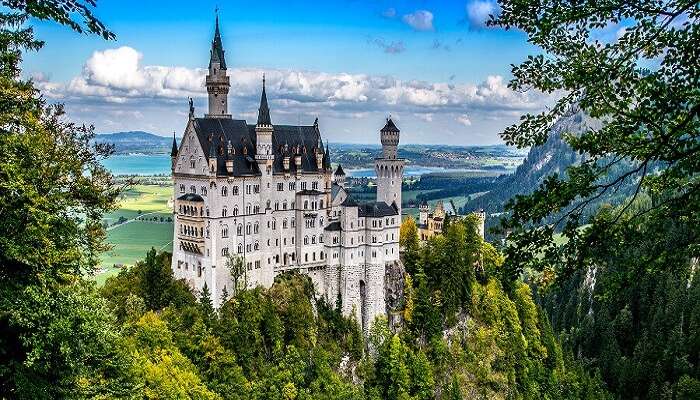 If you are planning a day trip to Neuschwanstein, it is pretty much easy from Munich. Take a Bavarian Train to reach the nearest town Fussen. A train departs in every 2 hours and the journey takes around 2.5 hours to complete. To reach Neuschwanstein Castle you will have to reach Hohenschwangau Village. Fussen to Hohenschwangau Village is 4 km. The ticket center is located here itself. You can also opt for an organized Neuschwanstein Castle tour here.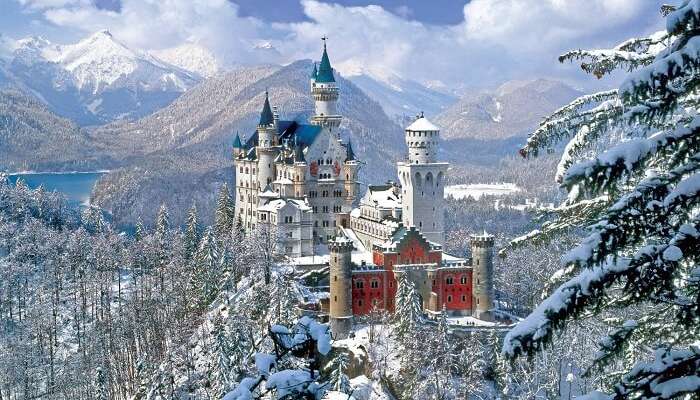 The castle looks dreamiest during winter. With a thick snow cover all around, this place resembles a dreamlike place from fairytales and fancy stories. At the time when there are dense mist and fog after heavy snowfall, only the minarets of the castle are visible protruding out of the sea of white. Take a look at these pictures and drool over them as much as you want!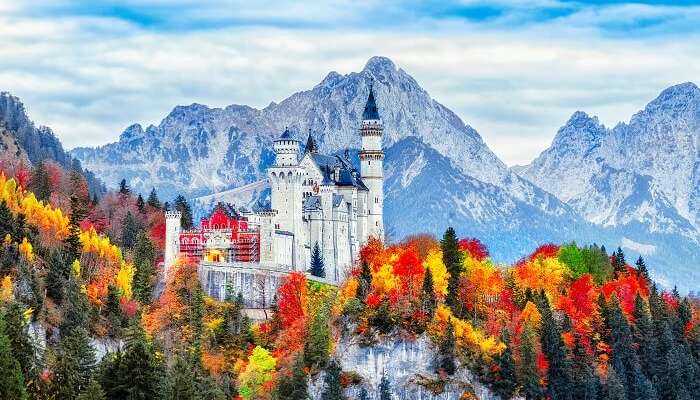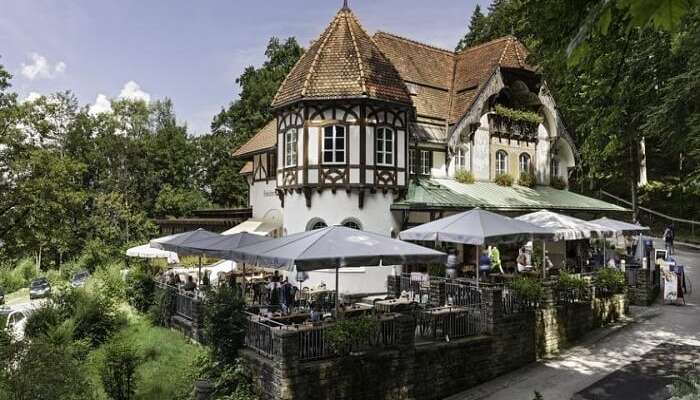 Plan a stay at these popular hotels near Neuschwanstein Castle. They certainly are some of the most popular as well as closest to the monument.
i) Schlossrestaurant Neuschwanstein
ii) Hotel Waldmann
iii) Hotel Kleiner Konig
iv) Hotel Helmerhof
v) Hotel Maximilian
All said and discussed, the Neuschwanstein Castle is a legendary masterpiece that continues to stay awesome as you read this. Wouldn't you want to adore this stunning beauty after standing right next to it? Plan a trip now!
A potterhead couldn't wish for more! This luxurious Harry Potter River Cruise is something you could book entirely for yourself to live the reel life. Cruising on England's Thames River, this venture is introduced by an American company called Barge Ladies.
Starting this August the tour lasts for six days. The cruise can accommodate up to eight passengers in its four rooms. As you sail, you'll be stopping over to visit many Harry Potter locations, like Virginia Water where Harry Potter first met Buckbeak (Prisoner of Azkaban), The Great Hall at Oxford's Christ Church College, and even Warner Brothers Studios to see the costumes, sets and props featured in Harry Potter movies.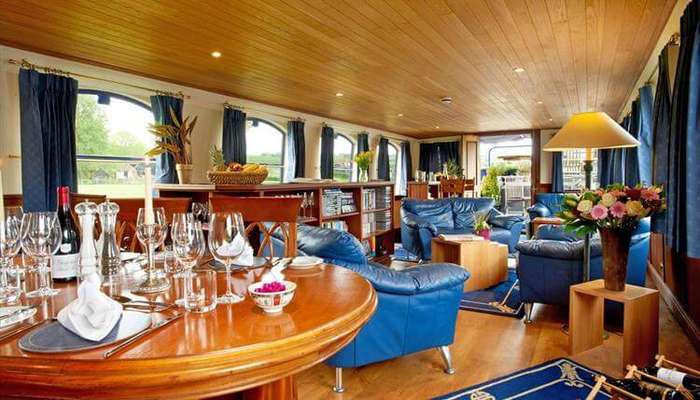 The cruise will have six crew members at your service, one of whom will be a gourmet chef dedicated to cook Hogwart-inspired meals for you. The open bar is the place you'll love, as you get to chug unlimited butterbeer.
The cruise tour is for $36,000, and the costs would come to $4,500 if you divide it among seven of your potterhead friends.
The serrated apexes of mountains drenched in the brilliant light of the sun, spikes of light piercing through the snow, teardrop-silver color lakes amid the flower-covered meadows, the icy cold arctic air, and heavy echoes of birds chirping should paint a vivid picture of the Alps mountains in your mind.
The Alps is among the most popular destinations in the world for adventurous activities including hiking, trekking, climbing, and skiing. The incredibly massive Alps stretches across 8 countries: France, Monaco, Switzerland, Italy, Liechtenstein, Germany, Austria, and Slovenia. The highest ten peaks of the Alps are situated in Switzerland, Italy, and France.
1. Mont Blanc at 15,774 ft above sea level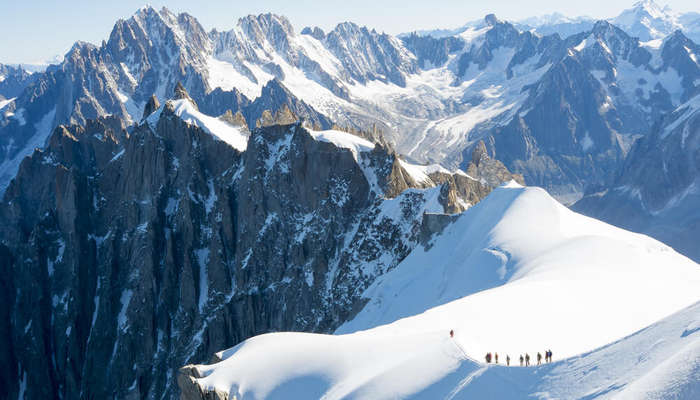 Mont Blanc is the tallest apex in the Alps and in entire Europe. The massif of the mountain range is situated in the Graian Alps and lies within Italy, France, and Switzerland. Tour du Mont Blanc is the most popular and challenging trek that gives you a chance to experience the beauty of Mont Blanc. The most interesting part is that you have to cross borders of three countries: France, Italy, and Switzerland to reach the highest peak in the Alps.
2. Monte Rosa at 15,203 ft above sea level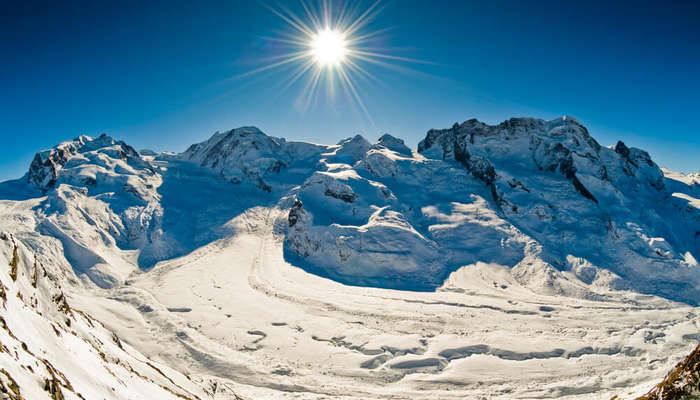 Carrying the title of Switzerland's highest peak, Monte Rosa is located in the eastern part of the Pennine Alps. With this elevation, Tour de Mont Rosa is among the toughest treks circling Monte Rosa, crossing through both the Swiss and Italian Alps. During summer, many climbers flock to the base of Monte Rosa in the hope to reach the peak.
3. Dom at a height of 14,911 ft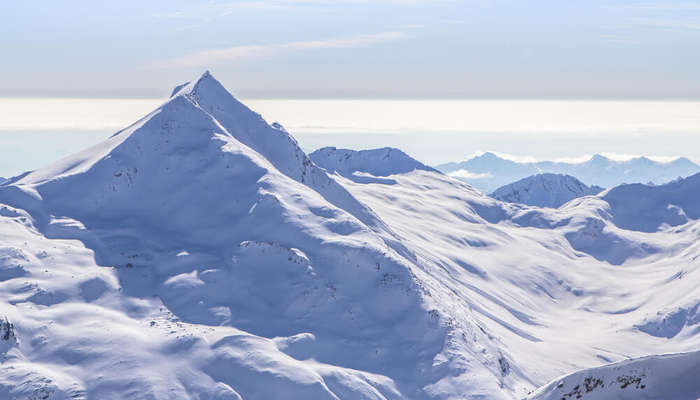 Doma mountain range is situated near Monte Rosa. It can be seen from Gornergrat. The peak is considered one of the easier highest peaks in the Alps due to its straight terrain. It's also excellent for Swiss Alps skiing.
4. Lyskamm at a height of 14,852 ft above sea level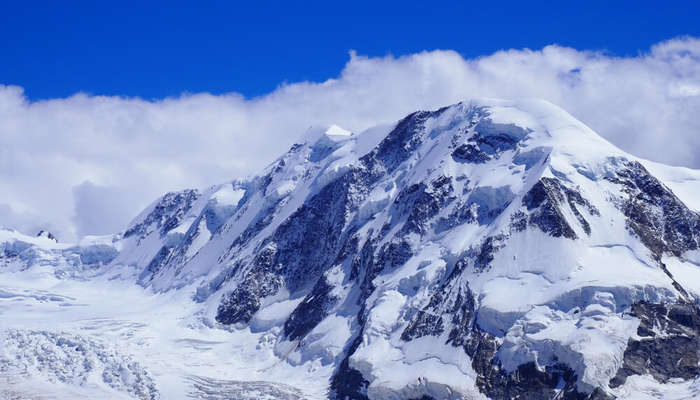 Situated in the Pennine Alps right on the border of Switzerland and Italy, Lyskamm is the fourth highest mountain peak in the Alps mountain range. The peak is known for its massive avalanches and many mountain climbers have lost their lives while attempting this trek. Lyskammis nick-named Menschenfresser, which means "people eater."
5. Weisshorn at a height of 14,783 ft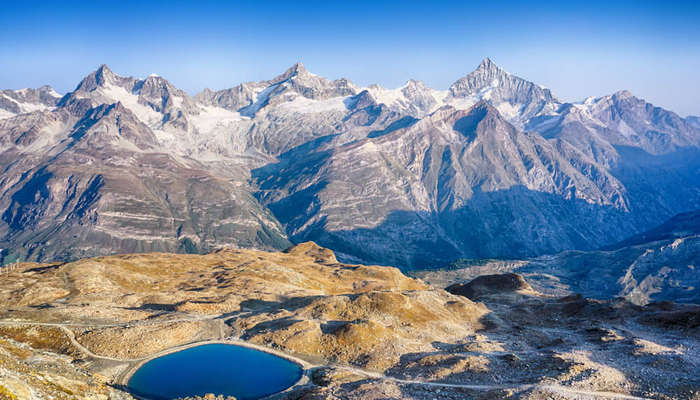 Located near the Matterhorn peak in the Pennine Alps, Weisshorn offers the most spectacular views. Since it is a difficult climb reserved for professional climbers, it doesn't see many visitors. The large rocks and snow make the terrain incredibly challenging.
6. Matterhorn at a height of 14,692 ft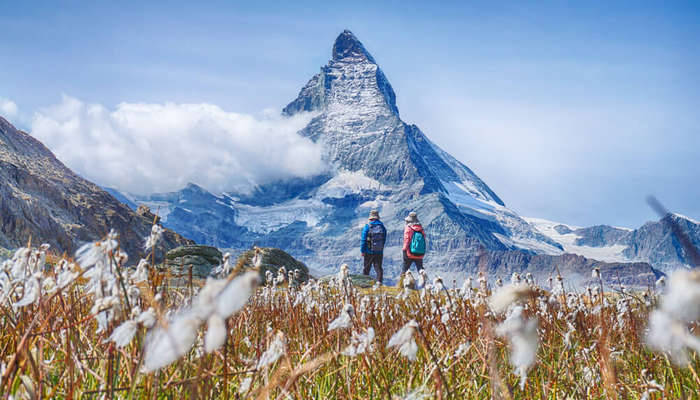 Arguably the most iconic mountain peak in the entire world, Matterhorn is absolutely scenic. Every year, millions of tourists and travelers from all around the world come to Zermatt in Switzerland to witness the mesmerizing view of the Matterhorn.
7. Dent Blanche at an elevation of 14,295 ft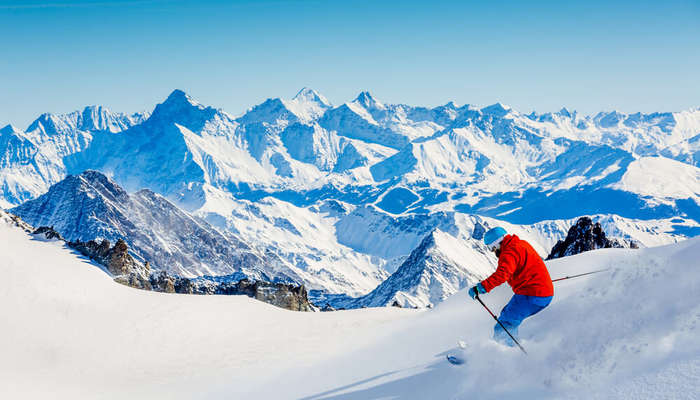 Situated in Zermatt region of Switzerland, Dent Blanche can be seen from Gornergrat. One of the toughest in the Alps, it is a very interesting and diversified climb.
8. Grand Combin at an elevation of 14,154 ft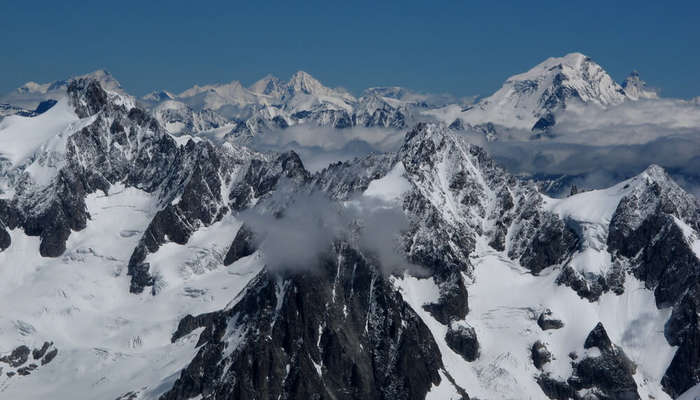 Located in the western Pennine Alps, Grand Combin is a difficult climb, which presents dangers such as icefall and avalanches. The massif creates one of the most splendid landscapes of the Pennine Alps. It is a demanding 6-day-long trek, so one has to be prepared for the tough terrain and weather.
9. Finsteraarhorn at an elevation of 14,022 ft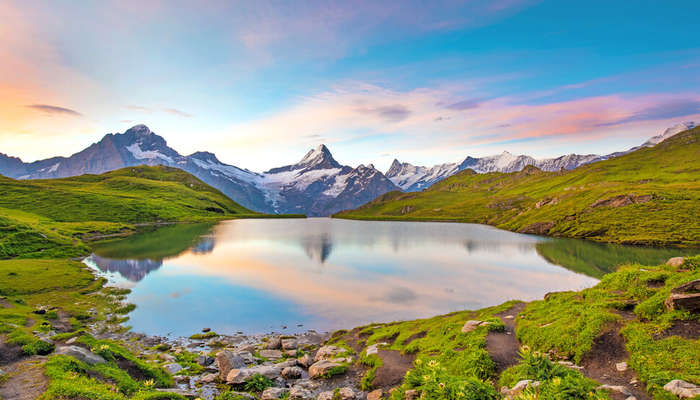 Situated in the Bernese Alps in Switzerland, Finsteraarhorn is the third most prominent peak in the Alps. The gorgeous peak is encircled by breathtaking glaciers and rocky outcrops. Although it isn't so popular among tourists, climbers are quite fascinated by it.
10. Zinalrothorn at an elevation of 13,848 ft above sea level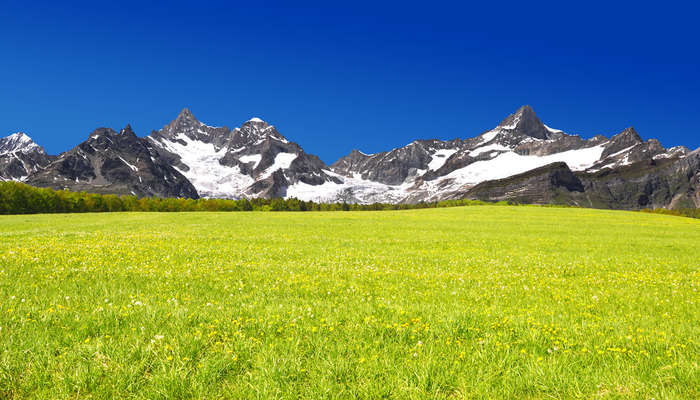 Located right in the middle of Weisshorn and Matterhorn, the bewitching Zinalrothorn can be seen from the Gornergrat. Climbers from Europe enjoy the solid rock quality and straight terrain to the peak.
Will you dare to climb one of these highest peaks in the Alps mountains though at times you'll feel terrified!
Memories of summer vacations, cultural functions, morning assemblies, and, of course, games periods flash through my mind as I see, on my Facebook feed, pictures of young kids heading for their first day at school. The never-ending cycle of work & fun has undoubtedly given me the best days of my life. Sadly though, despite the enactment of the Right To Education Act (2009), there are children who are missing out on the most vital part of their lives. And this is exactly what we wish to change.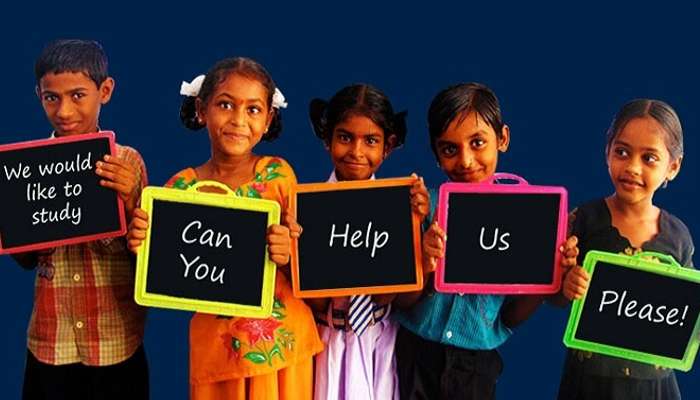 The Right of Children to Free Compulsory Education Act, or Right to Education (RTE) Act, aims to make education a fundamental right for every child between the ages of 6 & 14, irrespective of gender & social category. The act, passed by the Indian parliament on 4th August 2009, came into effect nationwide (except the state of Jammu & Kashmir) from 1st April 2010.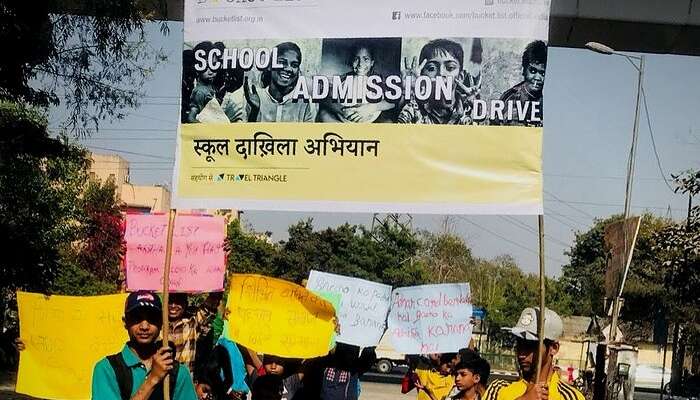 With the central idea to enroll every child in the age bracket of 6-14 years into the school and to spread awareness about RTE, the NGO Bucket List collaborated with TravelTriangle for the School Admission Drive 2018. Listed below are the detailed objectives:
To enrol a minimum of 30 children (living on streets and in slum colonies) into the Sarvodaya Vidyalayas.
To spread awareness about free and compulsory education under the RTE — on-ground and online awareness.
Initiate documentation procedure of the children and impart relevant knowledge (Aadhaar, Bank A/C, etc).
Launch several rallies to give out information regarding RTE and prompt the audience to register for the same during the short window before admission process commences.
To document the progression of the drive, reflecting all the obstacles and reliefs, to present a contrast.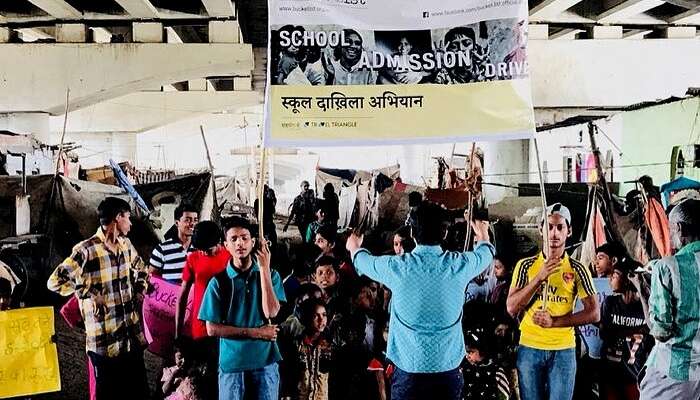 TravelTriangle has, thus far, been able to raise over Rs. 25,000 on behalf of Bucket List through the school admission drive, thus ensuring school admission for at least 23 children. Going forward, the team hopes to be able to sponsor the education for even more children.
About the NGO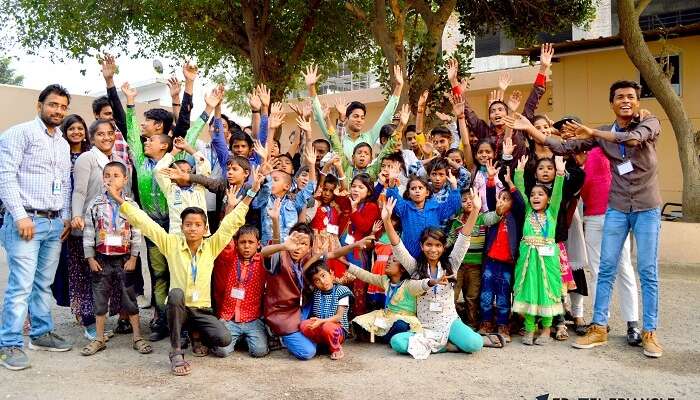 Bucket List is an NGO working for the underprivileged children through creative media — storytelling, sports, and arts — to enhance their physical & social well being. Its programmes, such as Tell a Tale, Genie in a Bucket, and Streets to Field, aim to bring a change in their lives and help them make the most of their talents & skills.
Our association with the NGO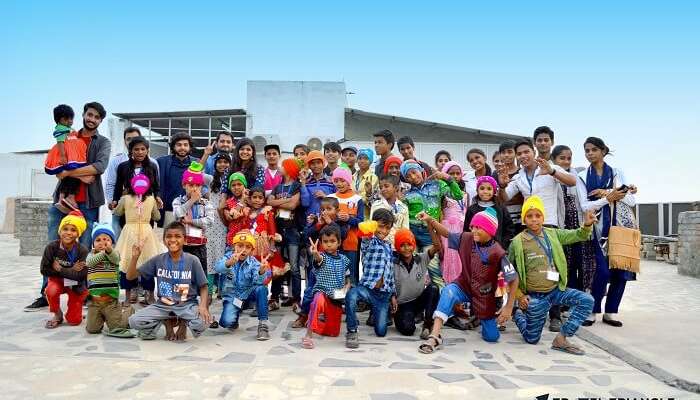 TravelTriangle has been associated with the NGO — Bucket List — for the past 6 months. Together, the two have successfully conducted multiple events; including donation drive, Children's Day celebration, and Secret Santa for the underprivileged kids.
When asked about their wishes during the Secret Santa event, these kids expressed their desire to get admission into school. While some of our employees stepped in right away to make these dreams come true, these wishes of the little kids all led to the genesis of the next event — the School Admission Drive.
Here's what the project lead of Bucket List has to say about the initiative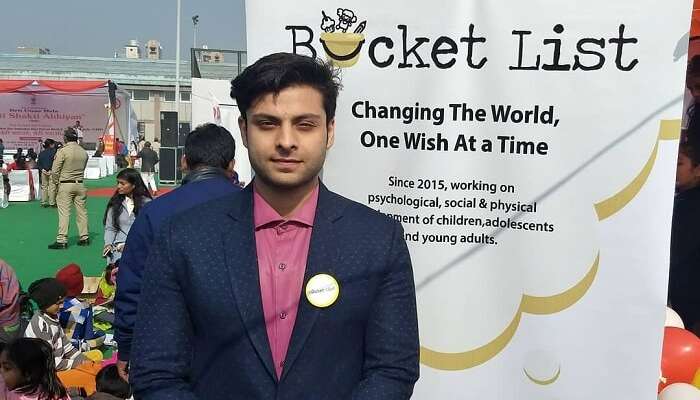 "Under the School Admission Drive, we had the pledge to get all the children, eligible under RTE, admitted to a school. How many kids do we know who love going to school? Not so many. But once you witness all these children getting ready for school so enthusiastically every single day, it becomes a source of inspiration for us. It is here that we see education truly being valued. And it is with these children that you can be sure that education will be positively utilized. A big thank you to TravelTriangle for believing in our endeavors & becoming lifetime 'Genies' for so many deserving children."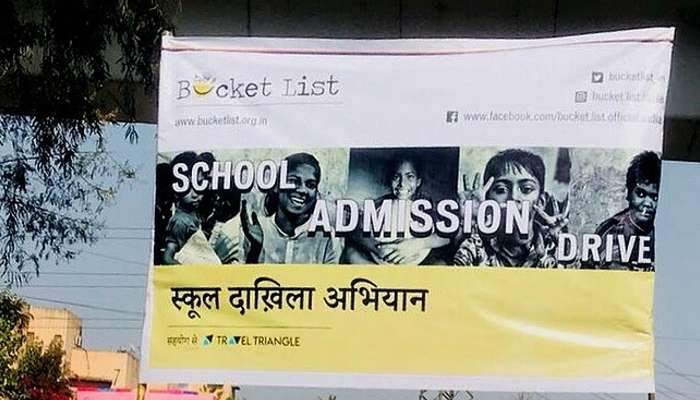 It's truly a great initiative that Bucket List has taken to ensure a great future & 'achhe din' for the destitute children. Small steps, such as this one, can make tremendous impact on the lives of others. We, at TravelTriangle, have already started contributing to the cause, and so can you.